Ready made content blocks
Design your entire website right inside the WP Customizer
Colibri takes the Customizer to the next level so you can customize every aspect of your website in a single interface. This includes headers, page content, footers, navigation menus, global and individual styling.
Header
Page Content
Footer
Blog Pages
Search Page
Design features that will make your websites stand out
With Colibri you can combine design options like background, overlay, graphic separator, spacings, header layout and media type to obtain truly unique and outstanding websites.
Awesome hero sections with video, slideshows & image collage
The hero section of your websites makes the first impression to your visitors. Make a great first impression with features like video, slideshow background and image collage.
Shape dividers & section overlap
Graphical features like shape dividers and overlap sections can help create unique website that is easy to remember by visitors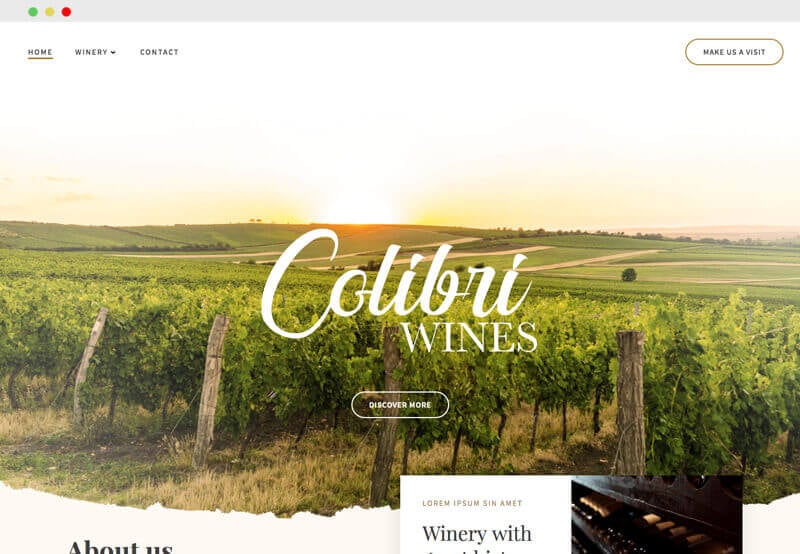 Looks great on any device by default
Every element inside Colibri is designed to look great on any mobile device and any screen size. It also comes with a different navigation system that is optimized for mobile devices.
Complete control over navigation layout & design
With Colibri you can easily customize your navigation section to fit your brand design and you can also choose the layout that best fits your website.

GET STARTED FOR FREE. NO CODING REQUIRED
Ready to create an awesome website?
50+ Full Website Templates for a Variety of Niches
If you want a head start or simply to get your site off the ground as fast as possible, you can simply use one of Colibri's professionally designed website templates.
Create pages lightning-fast with 150+ predefined blocks
Colibri offers fully customizable blocks that fit any situation and help you build the website you need in the blink of an eye. A few examples include: about blocks, features, services, team, testimonials, portfolio, contact blocks etc
20+ Beautiful headers
Choose a hero section that helps you tell your story.
About, features & content
Easily describe and promote
your services.
Team, testimonials & clients
Build trust with team, testimonials and clients blocks.
Portfolio & photo gallery
Showcase your work using the portfolio and photo gallery blocks.
Contact blocks
Let your visitors easily get in touch using the contact blocks.
Footer blocks
Choose a footer block that best fits
your website.
GET STARTED FOR FREE. NO CODING REQUIRED
Ready to create
an awesome website?
Customize any element on the page
to pixel-perfection
Want to create a truly custom website? With Colibri you have complete design freedom. You can select any element on the page and style it to pixel-perfection.
40+ Drag and Drop Components
Colibri comes with a set of 40+ drag and drop components that you can use to create completely custom blocks or customize the existing ones.
Start designing your website with 0 setup using Colibri Cloud
Colibri Cloud is your online workspace for WordPress sites. You can create websites in your Colibri account, share them with your colleagues or clients and publish to any hosting when you're ready.
1. Create a new project in your Colibri account
A new WordPress installation will be available to you within seconds so you can start working with zero setup.
2. Design your site using the Colibri builder
Using the Colibri builder you can design a pixel-perfect website right within the WordPress Customizer
3. Publish to any hosting server with just a few clicks
With the Colibri Publisher plugin, you can publish your website to any hosting server you prefer with just a few clicks
Free and PRO versions compared
You can create a simple website completely FREE of charge or you can go PRO and unleash the full power of Colibri.
Live editing in Customizer
Predesigned website templates
Front page header designs
Image and gradient backgrounds
Video and slideshow backgrounds
Graphical section dividers